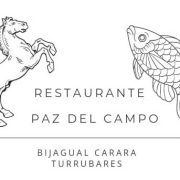 Immersed in the mountains of the Carara Valley in Bijagual de Turrubares, is the Paz del Campo Restaurant.
If you are looking for a place to relax with your family, in contact with nature, you can enjoy our Tilapia Sport Fishing services, Bar and Restaurant service, events and tours.
We guarantee an unforgettable rural gastronomic experience, in the mountains of Bijagual Carara, Turrubares, Costa Rica! In a family atmosphere!
Sport Fishing for Tilapia or Guapotes.
Restaurant service
Events
Tours
Romantic Packages
Attention schedule:
Monday to Thursday 11:00 am to 6:00 pm Breakfasts and Dinners with Reservation.
Friday to Sunday 11:00 am to 9:00 pm Breakfast with Reservation.
Local and international gastronomy of local and seasonal products.
Meat and Seafood Specialty.
• Tilapia Sport Fishing
• Tours
• Breakfasts
• Dinners
• Birthday
• Weddings
• Business meetings
Telephones:
+506 8773 9327
+506 2645 1018
Ruta Nacional 320 Tarcoles- Bijagual.
Contact Business